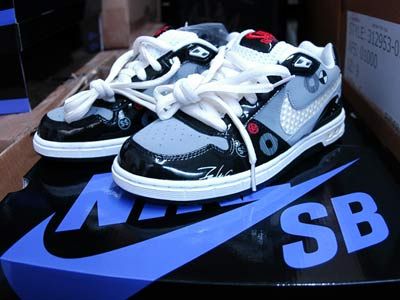 It has been a couple of weeks since I put up a shoe post so please permit me to wax on a bit about the nike dunk. I've read that this is one of the greatest shoes ever designed, with the endless variety that we've seen them in it would be hard to argue that statement. Above we have the new nike Futura, which was released last week in san Francisco. If only I had friends in that fair city willing to stand in line for hours to buy me a very expensive pair of shoes. But anyway as you can tell from the picture they have really pimped this version out.
Here we have a shoe that any child of the early nineties will covet, the Nike Dunk Sg low De La Soul. These shoes are still available a few places for less than $100. The equally kick ass hi tops seemed to be sold out most everywhere. Who wouldn't like a pair of these, I'll bet even G! would like a pair, although every time she put them on she would probably sing
Me, Myself and I
. I'll bet odida would too, hell I would.
The Jordans are doing very well thank you. After several days of cradling them in my arms many hours a day I resolved to put them on and actually wear them around. They are awesome. I got several comments on them at school and at a party I wore them to. I've spend many hours with the card that came with them that shows all of the Jordan reissues and I think that I'll eventually have to buy a white pair of the Jordan IV's. I may have to wait until my wife makes us rich but it will be done, as to whether I'll wear them...